What is Agile CRM
Agile CRM (https://www.agilecrm.com/) is a cloud-based CRM (customer relationship management) that automates sales, marketing and services through a single platform.
Designed for small and medium-sized businesses, this software focuses on integrating sales, service, marketing, social media and other engagement avenues to create a centralized hub for customer reports, analytics and marketing.
Founded in 2013 by Manohar Chapalamadugu, former developer and CEO of ClickDesk, a live chat customer support software, the company has more than 15,000 customers worldwide.
Agile CRM Features
Agile CRM is packed with interesting features that are extremely easy to use. Let's take a closer look at the features of Agile CRM.
Contact management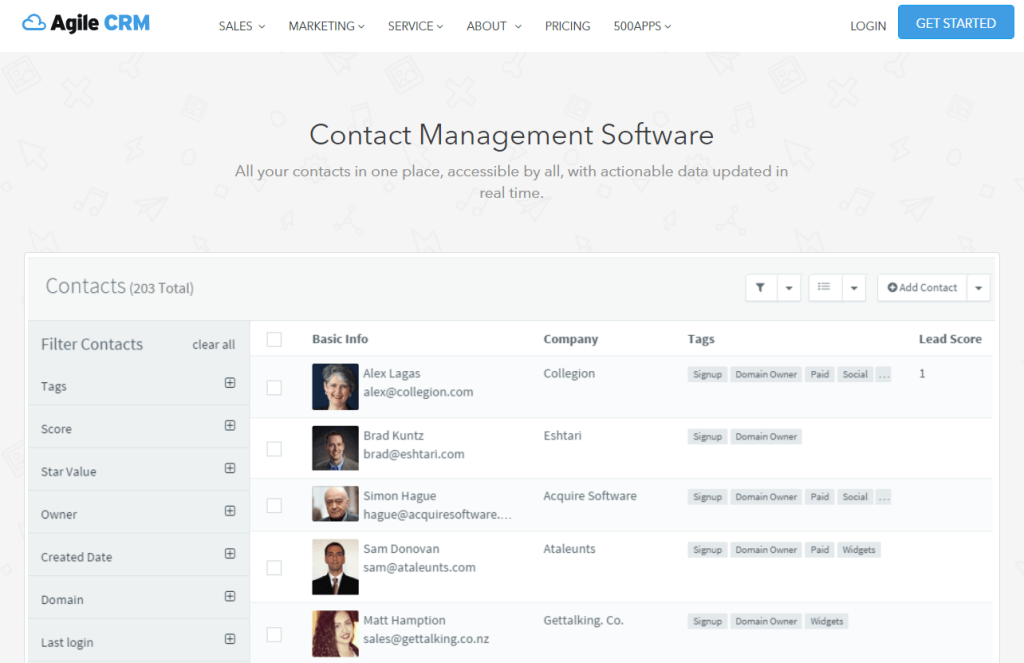 Every business owner knows that contact management is a must. Agile CRM not only keeps your contacts organized, it goes a step further and lets you get to know your customers better (https://www.agilecrm.com/contact-management-software), how to personalize your contacts with information about their interests and how they interact with your brand.
Sales Automation
The functionality of sales automation (https://www.agilecrm.com/sales) allows you, for example, to put your calendar online and automate everything at once, from telephony to follow-ups and more.
Agile CRM supports you in achieving your sales goals by offering comprehensive contact viewing, offer tracking, lead scoring, real-time alerts, and in-depth analytics.
Marketing Automation
The functionality of marketing automation (https://www.agilecrm.com/marketing-automation-software) allows you to create automated marketing campaigns but also popups for the Lead Generation, as well as automatically segmenting contacts based on emails opened, links clicked, custom tags, web browsing timeline and more.
Project Management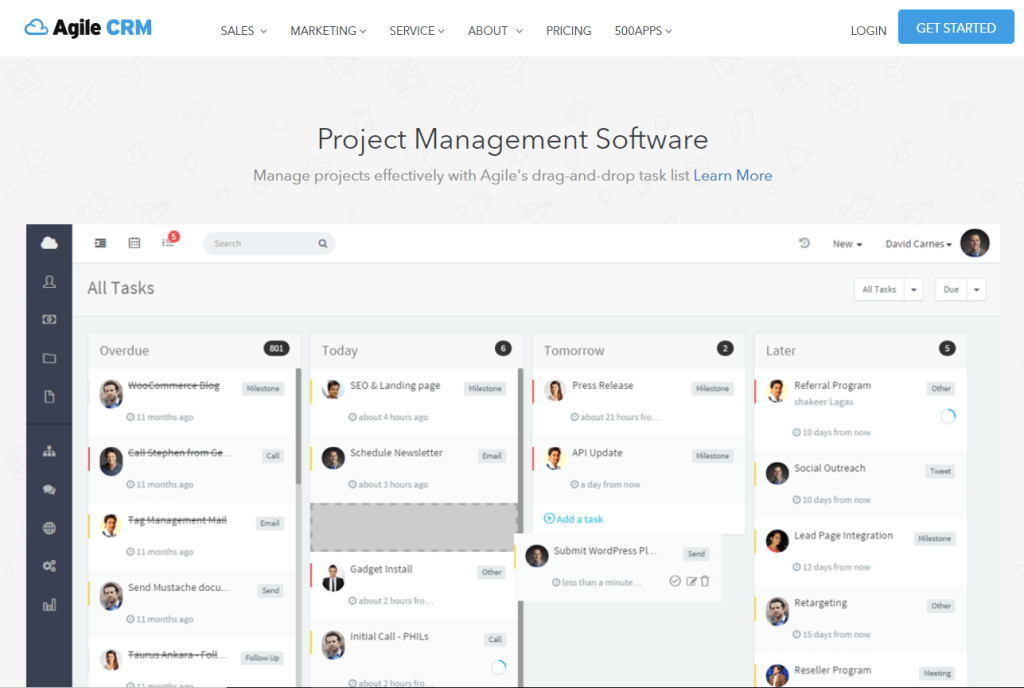 Agile CRM project management tools (https://www.agilecrm.com/project-management) allow you to cooirdinate and synchronize team activities.
Appointment Scheduling
The online scheduling feature of Agile CRM (https://www.agilecrm.com/appointment-scheduling-software) facilitates appointment scheduling, similar to Calendly.
Deals
With the deals function (https://www.agilecrm.com/deals), you can predict future revenue, create milestones, or automate follow-ups.
Telephony
Functionality telephony (https://www.agilecrm.com/crm-telephony) allows you to make and receive calls using Agile CRM, but you can also record calls and take notes.
Other features of this feature include enhanced caller ID, call forwarding, and call scripts.
Social CRM
The social CRM functionality (https://www.agilecrm.com/social-crm) integrates with social media channels like Twitter and uses a variety of techniques to connect with your customer and prospect base.
Landing page builder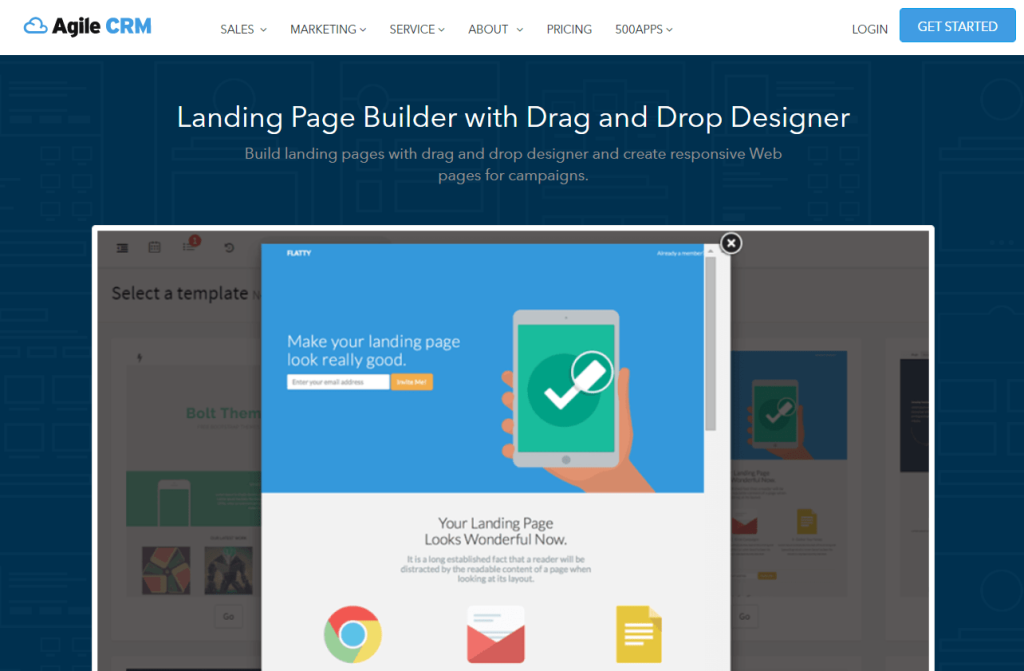 The landing page builder (https://www.agilecrm.com/landing-page) is one of the features of Agile CRM and allows you to create Landing Pages for contact acquisition, offering ready-made templates.
Push Notifications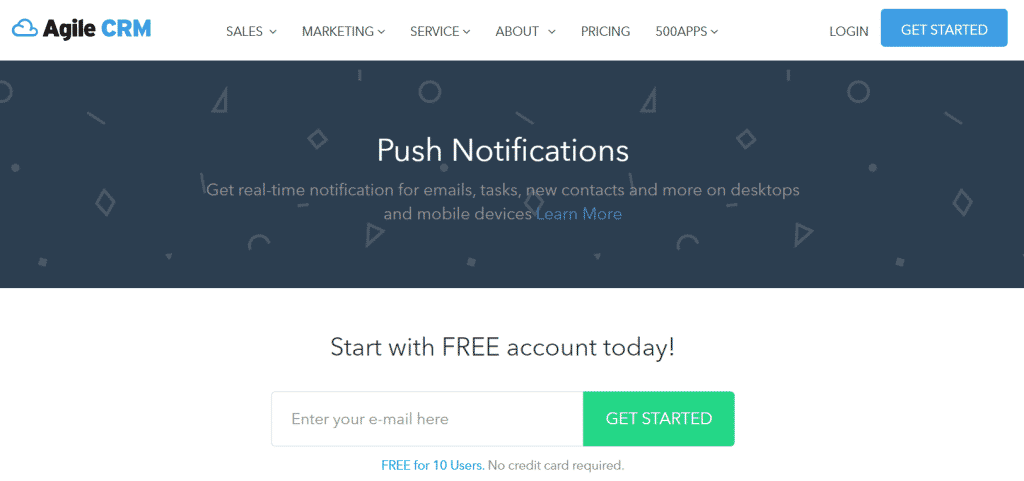 Enabling push notifications (https://www.agilecrm.com/push-notifications) will help you drive more traffic and increase conversions. This feature allows you to send instant messages to your customers whenever they are online, similar to Pushcrew and Provesource.
Benefits of Agile CRM
Let's list the main benefits offered by Agile CRM:
Useful automated functions
Easy appointment scheduling
Importing contacts is quick and easy
Drag-and-drop marketing automation
Managing contacts on a page
Share alerts and activity reports in real time
Newsletter and autoresponder management
Gamification options to improve the efficiency of employees and contractors
Two-way email integration and email tracking
Integrations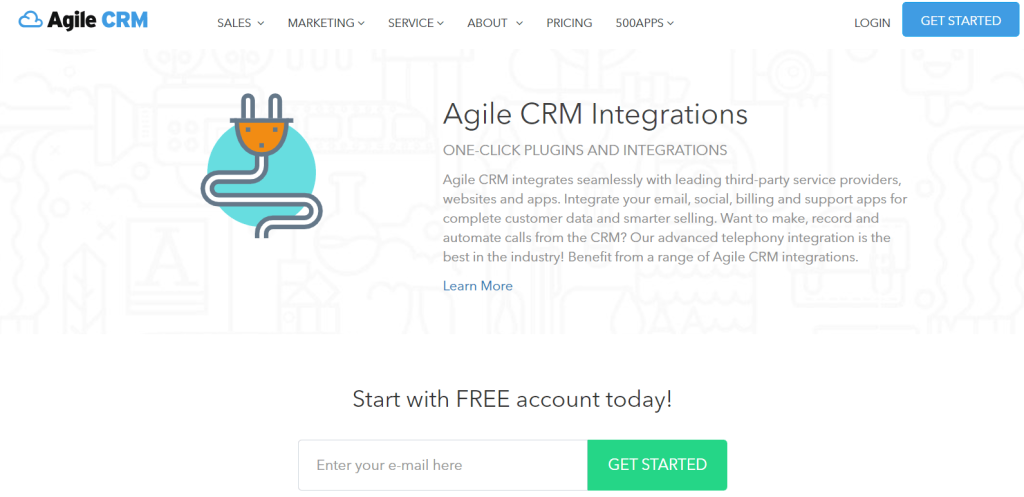 Agile CRM integrates with leading third-party service providers, websites and apps. Integrate your email, social, billing and support apps for comprehensive customer data and smarter sales.
You can benefit from a wide range of integrations (https://www.agilecrm.com/plugins), including ZapierWeb Forms and Landing Pages such as Unbounce, LeadPages, Gravity FormsEmail Gateway Integration, such as Mandrill and SendGrid.
Opinions and reviews on Agile CRM
Over 15,000 companies worldwide rely on Agile CRM. You can read user testimonials and see their videos with comments about the service on these pages of the official website: https://www.agilecrm.com/testimonials e https://www.agilecrm.com/social-wall.
Agile CRM Pricing
Agile CRM offers different price levels (https://www.agilecrm.com/pricing), from free software for small businesses with up to 10 users to an enterprise level that supports over 50 plug-ins and integrations.
The paid plans are:
Starter, starting at $ 8.99 per month;
Regular, starting at $ 29.99 per month;
Enterprise, starting at $ 47.99 per month.
The free version is actually free, since you are not required to provide your credit card information when subscribing to the service for up to 10 users.