What is Instapage
Instapage (https://instapage.com/) is one of the best known and most popular Landing Page Builder in a sector where there are other SAAS (Software as a Service) dedicated to the realization of Landing Pages (which we talk about in the paragraph Alternatives which you find below).
Instapage allows you to create conversion-optimized after-click landing pages, especially for the Lead Generation and ecommerceThanks to the features that we'll see in the next few lines, you can create Landing Pages that combine design care and effectiveness in terms of performance without having to intervene on the code or have knowledge of design.
Among these, next to the Builder that, as commonly happens, works in blocks in drag & drop mode, Instapage combines other conversion optimization features (CRO) as heatmaps, A/B Test and other tools that help to improve conversion rate and ROAS (return on advertising investment) which according to Instapage is up to 400%.
Let's get into the details of the platform's features.
Instapage features
We explore the Instapage features in more detail.
Instapage Templates
Instapage provides more than 500 templates for Landing Pages (https://instapage.com/landing-page-templates) to choose from.
The templates you have access to have been designed according to a standard in conversion works and aimed at a number of objectives such as product sales, the Lead Generation, event registrations, and app downloads. Thanks to the filters, you can quickly find the type of template you're looking for when starting a new Landing Page.
Tenplates can be a great starting point for developing a custom Landing Page with the included Landing Page Builder.
AdMap
AdMap (https://instapage.com/products/admap) allows you to manage campaigns Google Ads from within Instapage in a perspective of web personalization.
Google Ads offers campaign types such as search, display, shopping and video, however AdMap only supports the Search Network.
For each Google ad, you can create a custom experience by assigning the ad to a group and displaying specific landing pages, thus allowing you to create a match between ad and landing page that is useful from both a conversion and Quality Score perspective.
Experimentation
Instapage shows a "Create" button A/B testing" at the top of the landing page editor. This functionality has now been moved to the Experimentation (https://instapage.com/products/conversion-optimization).
Experiments can be created for any landing page and you can create as many variations of your landing page as you want.
You can change the design for each landing page variation you add and define how often those variations should be displayed. Over time, your experiment will help you see which variations of your landing page perform best.
Drag & Drop Editor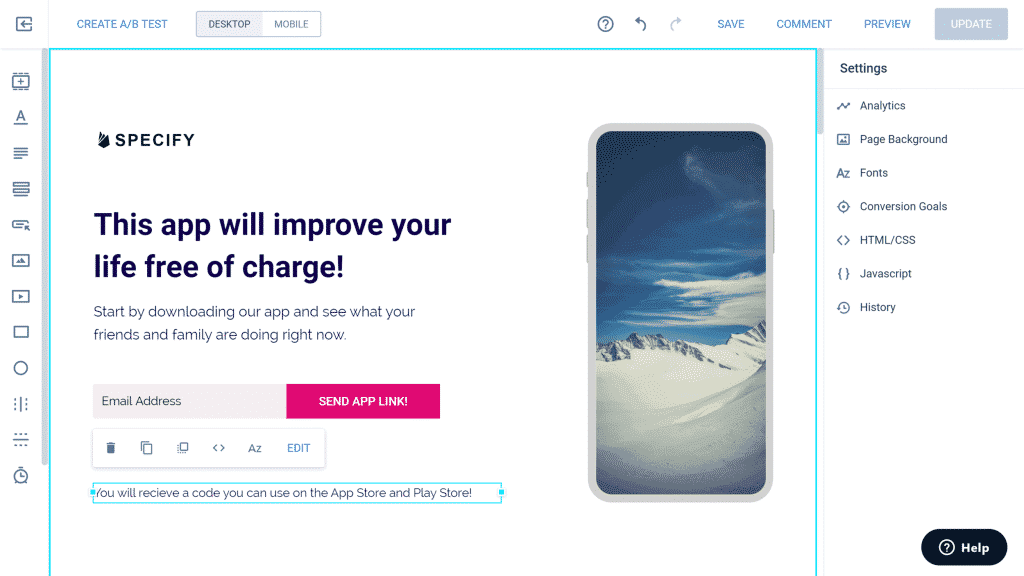 Whether you start with an empty dishcloth or one of the 500 templates available, theeditor by Instapage gives you the freedom to create a custom landing page.
Unlike even the most advanced page builders from WordPressthe Instapage page builder allows you to place your elements anywhere on the page. Instead of being set up on a grid layout or a structure based on columns and rows, you are free to move elements on your page anywhere on the drawing area, even on top of each other.
To help you navigate your design, Instapage shows markers and grids as you move elements around the page, giving you an easy way to align elements on your page.
Customization options
The elements that make up your pages can be easily customized through Instapage's page builder interface. Selecting an element on the page displays some settings, along with an edit button.
Clicking the edit button reveals the element's properties in the side panel and, from there, you can make a number of changes in addition to those available on the floating toolbar.
If you have more precise specifications for your landing page design, you can add custom CSS to your page elements to further control their appearance. You can also add custom JavaScript to add extra functionality to your landing pages.
Instablocks
If you plan on creating multiple landing pages, for yourself or your clients, Instapage has a great time-saving feature, Instablock, which allows you to create a library of reusable assets, or blocks, that you can insert into any landing page.
For example, you could create a custom testimonial block that contains positive feedback from your customers and then save it with Instablock. Then, whenever you create a landing page that needs to include testimonials, you can quickly insert the Instablock into the page.
Other uses for Instablocks could include creating page headers, footers, CTAs, and anything else you might want to use across multiple pages. In addition, Instapage comes with a wide selection of Instablock templates to use as starting points for your own resources.
It is also possible to update an Instablock in the library and then see the changes automatically applied to each instance of that block in your published pages but only in the Enterprise license of Instapage with the Global Blocks feature.
Landing Page Widgets
You can quickly insert a number of elements into your landing page designs using the Instapage widget. To add one to your page, simply click on one of the widget icons in the sidebar menu of the Instapage editor and it is immediately released.
From there, you can move it to the page and start changing its appearance and content. You can also define the action associated with a widget, such as setting what happens when someone clicks a button.
While there are some useful options, widget selection and the lack of default widgets is probably the weakest aspect of Instapage, especially when compared to the page builders of WordPress as Divi Builder and Elementor. Some of the widgets you can add to your landing pages with Instapage include:
Titles
Paragraphs
Shapes
Buttons
images
Video
Rims
Vertical and horizontal lines
Timer (Countdown)
HTML Widget
With a modern WordPress page builder plugin, such as Beaver Builder o Thrive Builder, you can add ready-made sliders, testimonials, price tables and many other items to your pages.
With Instapage, you can create your own pricing tables or testimonial panels by combining text, image, and title widgets, for example, but it's not as convenient as adding a widget created specifically for your page. To save time, there are some predefined price tables and other elements in page templates, but adding them to your pages isn't as easy as having access to ready-made widgets that you can drag and drop onto your pages.
Luckily, the Instablock feature mentioned above gives you a way to create an item, such as a pricing table or call to action, then save it to reuse on any page when needed.
Mobile Friendly Design
All landing pages created by Instapage are optimized for mobile devices by default. However, you can switch to mobile view of a page you're working on in the editor and then make changes that only mobile users will see.
You can then display slightly different versions of your landing pages depending on whether your visitors are using a smartphone or a desktop device, but not by creating two completely different versions of a page, but by hiding the elements you don't want to show to mobile device users, as is done in Elementor.
Publication Options
After creating a landing page with Instapage, you have a few options to publish it which include:
post it on your domain;
publish it on a WordPress site using a free plugin;
publish it on a Drupal site.
You can also test your landing pages on a demo domain provided by Instapage.
Publishing Landing Page Instapage on WordPress
If you want to publish an Instapage landing page on your WordPress website, after activating the free plugin on your site, you will need to connect your WordPress website to your Instapage account.
Once you've connected your WordPress website and Instapage account, you can simply choose which landing page you'd like to publish to your site from the available options. Any landing page you have created and published to Instapage should be available from the drop-down menu in your WordPress dashboard.
When you publish a page from Instapage on your WordPress website, you can choose whether to display it as a landing page, 404 error page or home page of your website.
After choosing a page, entering a URL, and hitting the Publish button, you should be able to display that landing page on your WordPress site. The process for publishing landing pages to a Drupal website is very similar.
Publishing Landing Pages on your domain
In addition to publishing landing pages on a website created with WordPress or Drupal, you can use a domain name you have registered to make your pages available online.
Instapage shows instructions for many of the registrars and hosting popular providers such as GoDaddy, Hostinger, NameCheap, Cloudways, to help you quickly connect your domain to your Instapage account.
There's no limit to the number of domains and subdomains you can connect to your Instapage account, allowing you to publish up to 30 landing page experiences on the Business plan (more on the Enterprise plan) at any one time, across multiple domains or WordPress and Drupal websites.
You can also download landing pages and share them with other Instapage users who can upload them to their account for editing and publishing.
HeatMaps
As mentioned in the introduction, Instapage provides functionalities that are typical of Conversion Rate Optimization such as LuckyOrange, MouseFlow, Yandex Metrica.
After publishing a landing page, you can start tracking its performance. One option is to use the built-in heat map tool to see what your visitors did while viewing your pages, such as where they clicked or how far they're scrolling.
The heat map could reveal potential problems, such as buttons that your visitors don't recognize as buttons or forms that are located too far down the page, away from above the fold.
Google Analytics Integration
In addition to heat maps, you can also see your pages' conversion rates and other analytics data to help you monitor their effectiveness. Integration with Google Analytics gives you even more insight into the performance of your pages.
To help you get even more conversions from your visitors, Instapage allows you to run A/B tests on your landing pages as well. Using the controls, you can create a copy of a landing page, then make changes to the new version of the page, such as changing the call to action. Instapage will then show different versions of your page to your visitors to see which one performs better.
Page Speed
The loading speed of a Landing Page correlates directly with higher conversion rates, a lower bounce rate and an increase in Google Ads Quality Score.
Instapage provides functionality (https://instapage.com/products/page-speed) to accelerate the speed of your landing page with AMP and 3x faster loading with Thor Render Engine®. Let's look at these 2 aspects in more detail.
With AMP landing pages, you can give your prospective customers the best possible experience by sending them to fast, smooth-loading pages on any device and platform. You can also run an A/B test and optimize your regular and AMP pages to increase conversions.
Thor Render Engine® is Instapage's proprietary back-end technology that ensures your Landing Pages load quickly.
Other Instapage features
Some examples of these features include:
The ability for multiple users to collaborate on a project and work together on the same landing pages with a record of communications and changes made.
The ability to integrate with Google Ads to display advertising data in the Instapage dashboard.
An extensive library of online documentation to help you get the most out of Instapage.
Benefits of Instapage
Here's a quick overview of the benefits of Instapage:
Extensive library of customizable templates: With many high quality templates, you'll never have to start from scratch or look for inspiration for your next landing page.
Intuitive landing page editor: whether you want to start from scratch or edit one of the many templates, Instapage's drag-and-drop page generator interface is feature-rich and easy to use.
Effective module generatorTo make sure you're able to capture the right kind of leads with your landing pages, Instapage makes it easy to create detailed custom forms for gathering user information. In this regard I recommend you to read 12 Strategies, Statistics & Case Studies to Optimize Your Contact Form, Increase Lead & Conversion Rate.
Useful selection of widgets: In addition to forms, you can easily add other elements to your landing pages, including videos, images, and buttons.
Tracking and reporting: With built-in analytics, heat map and A/B testing tools, you can quickly see what works and what doesn't, then optimize your landing pages for better results.
Hosted system: Instead of using a WordPress landing page plugin, everything is hosted by Instapage independently of your website. Your account can be used to create landing pages for multiple projects and websites. However, you can quickly publish landing pages on your WordPress site with Instapage.
Integrations
Your Instapage landing pages can be integrated with a wide range of third-party solutions, including analytics tools, services for email marketing, CRM and software for Webinars and Lead Generation (https://instapage.com/integrations) including:
If you want to promote products with Instapage, you can link your landing pages to a store of ecommerce Shopify o PayPal to collect payments online.
You can also integrate Instapage with Zapier To connect your landing pages with even more apps and services. If you want to connect your landing pages to a particular service, it's worth checking the integration documentation to see if it's possible with Instapage.
Opinions and reviews on Instapage
With over two million landing pages at a average conversion rate higher than 16%, Instapage is helping leading brands in 100 countries get more value from their campaigns. Check out user reviews and opinions on the official website https://instapage.com/ and particularly here: https://instapage.com/customers.
Alternatives to Instapage
Speaking of alternatives, we can cite within the SAAS for the construction of Landing Pages services such as Unbounce (www.unbounce.com) o Landingi (www.landingi.com), or, moving to WordPress, Landing Page Builders like Elementor (www.elementor.com).
Demo and Free Trial
Instapage offers you a 14-day free trial To help you test their service. You'll need to enter your payment details to access the trial, so you can automatically receive your invoice once it's finished, but if you're not satisfied, cancellation is easy.
You can also request a demo: https://instapage.com/demo
Prices by InstaPage
If you're happy with the trial, there are two options to sign up for Instapage (https://instapage.com/plans), as indicated below.
The plan Optimizing includes unlimited conversions, 30,000 unique visitors per month, 30 published landing page experiences, 5 workspaces and 5 team members.