What is MailerLite
MailerLite (www.mailerlite.com) is one email marketing software in the cloud used by thousands of users around the world.
It is an email marketing software for freelancers and small to medium sized businesses, offering an affordable cost.
MailerLite's main strengths include ease of use, templates, and excellent customer support.
MailerLite features
MailerLite's main features are accessible within the dashboard menu, with some available on the welcome page.
Create campaigns
MailerLite's drag & drop editor allows you to create aesthetically appealing and professional newsletters on your own.
Drag & Drop Editor
As it often happens in drag & drop editors, in MailerLite you find predefined blocks that allow you to compose different newsletter templates during the design process: (www.mailerlite.com/features/newsletter-editor).
Rich Text editor
Beyond the drag & drop editor, MailerLite allows you to create plain text emails with the formatting capabilities of HTML. The email editor in RTF format (www.mailerlite.com/features/rich-text-editor) allows you to add links, images, bulleted lists mimicking a traditional email.
Custom HTML Editor
If you want to encode emails from scratch, MailerLite also provides an intuitive HTML email editor (www.mailerlite.com/features/custom-html) which offers special features such as snippets, custom variables, and an automatic CSS inliner for email.
Newsletter Templates
MailerLite's template gallery saves you time in creating eye-catching and personalized email templates (www.mailerlite.com/features/free-templates).
Email Marketing for Ecommerce
MailerLite provides a suite of tools ecommerce (www.mailerlite.com/features/email-marketing-for-ecommerce).
Lead Generation Tools
MailerLite provides a number of tools to increase newsletter subscribers such as:
Website Builder
Landing pages
Popup
Embeddable modules
Let's look at them one by one.
Website builder
MailerLIte comes with a free drag & drop builder (https://www.mailerlite.com/features/website-builder).
Landing Pages
One of the applications of Website Builder is the creation of Landing Pages: (https://www.mailerlite.com/features/landing-pages), which can also be created and edited from a predefined template.
Pop UP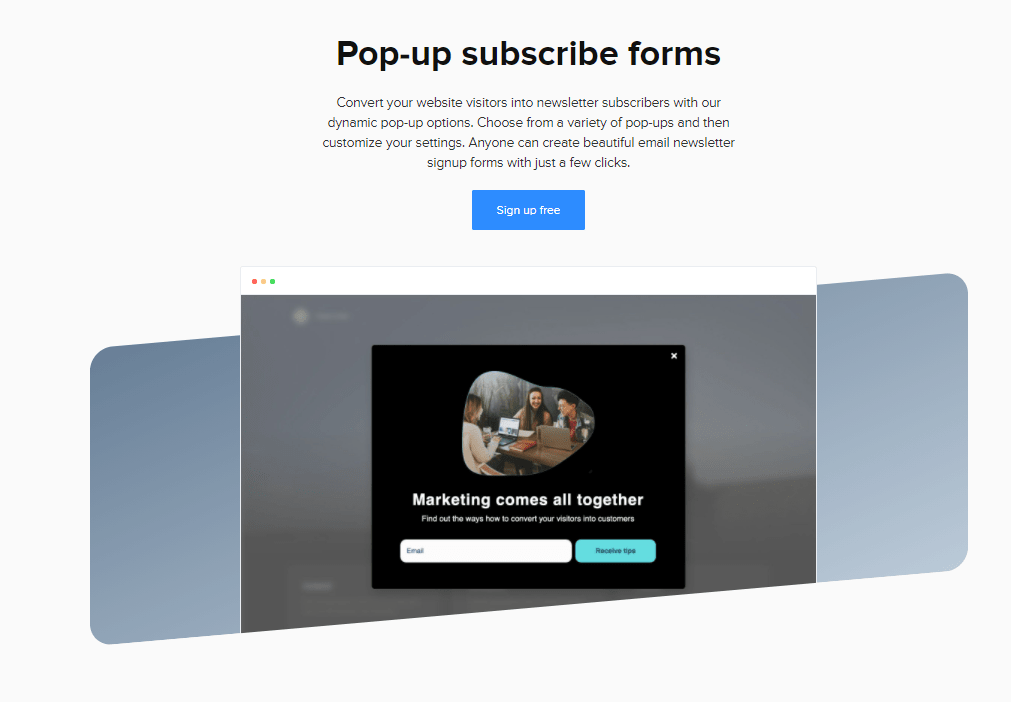 MailerLite also provides a selection of Pop Up templates with related settings: (https://www.mailerlite.com/features/popups).
Promotion pop-up
Among MailerLite's Pop Up templates there are promotion popups, where you can choose the template, customize the design and set the display options for this specific type of popup, ideal for proposing offers: (https://www.mailerlite.com/features/promotion-popups).
Embedded Signup Forms
MailerLite makes it easy to create contact forms (https://www.mailerlite.com/features/forms) that can be integrated into your own site and adapted to its design. This allows those who sign up via the forms to be added directly to a list to which you can link a workflow of email marketing automation.
Email List and Subscribers Management
MailerLite, thanks to a subscriber management interface, allows adding, filtering and organizing subscribers, also giving the possibility to create segments, add tags and details.
Let's look at a number of these features.
Tagging
Interest groups (https://www.mailerlite.com/features/interest-groups-tags) allow you to reach specific audiences by adding personalized tags to subscribers based on behaviors or interests.
Web Personalization
Thanks to the inclusion of custom variables, MailerLite allows you to create custom emails (https://www.mailerlite.com/features/personalization) by exploiting the benefits of web personalization and adding name, birthday, hometown or other characteristics of the subscriber automatically.
Segmentation
The segmentation feature (https://www.mailerlite.com/features/segmentation) allows you to divide your subscribers by, for example, location, age, behavior or other relevant aspects, allowing you to send the right email to the right person and thus increasing open and conversion rates.
Email Marketing Automation
Like the vast majority of email marketing software, MailerLite allows you to create workflows of email marketing automation triggered by specific time and action-based triggers: (https://www.mailerlite.com/features/automation).
In addition to the traditional workflows and triggers, MailerLite provides 2 interesting automation features: let's see them.
Automatically resend unopened campaigns
The automatic resend function of MailerLite (https://www.mailerlite.com/features/auto-resend) allows you to set up an automatic resend when the email is not opened: MailerLite itself cites a statistic that resending an email to someone who doesn't open can increase average open rates by 30% or even more:
RSS to email Campaigns
Another interesting email marketing automation feature, which is also found in MailPoet, is the automatic sending of emails based on published articles: the RSS to email feature automatically inserts your new content into an email and sends it to newsletter subscribers based on a schedule you control: (https://www.mailerlite.com/features/rss-to-email).
Optimize campaigns
MailerLite provides some tools to optimize the KPIs of your email marketing campaigns such as AB Test and sending it by time zone. Let's see them together.
A/B Test
MailerLite offers A/B testing separated (https://www.mailerlite.com/features/ab-testing) for two different campaigns. With testing you can see the best combination of email and content performs best by testing it on a limited group of subscribers based on the KPIs you've decided on and send the winning version to all your other subscribers with one click.
Deliver emails by time zone
A very cool feature of MailerLite allows you to ensure that subscribers to your lists receive your emails at the same time in every time zone around the world (https://www.mailerlite.com/features/deliver-by-timezone).
Surveys embedded into emails
Another new feature of MailerLite is the possibility of integrating surveys in emails: (https://www.mailerlite.com/features/survey).
Track your results
Campaign report
MailerLite provides a series of campaign performance reports (https://www.mailerlite.com/features/newsletter-reports) which include the number of cancellations, spam complaints, bounces (soft bounce and hard bounce) and other engagement metrics.
Regarding bounce management, after one hard bounce or five soft bounces, MailerLite automatically moves subscribers into a bounce folder where you can manage them.
Click maps
With MailerLite's Click Map feature you can keep track of how your audience interacts with your newsletters (https://www.mailerlite.com/features/click-map). You can, for instance, figure out if they tend to click on images more than on buttons through a mapping that you can also find at SendinBlue.
Mail openings by location
Opens by location (https://www.mailerlite.com/features/opens-location) in the campaign reports you send helps you understand where your subscribers are and which countries have the highest engagement.
Other features
Here are other features of MailerLite include:
Monitoring ecommerce: MailerLite has ecommerce monitoring that applies to WooCommerce and Shopify.
Unlimited image library: MailerLite does not impose limits on image size.
Integrations
MailerLite integrates with numerous software (https://www.mailerlite.com/integrations) as many as 125 at the time of writing, including:
In addition, it is easy to integrate MailerLite with sites WordPress via the WordPress plugin. MailerLite also allows access to the developer API, which helps its integration with other apps.
Opinions and reviews on MailerLite
MailerLite is an affordable email marketing software. The company has grown to have 800,000 businesses using MailerLite each month.
Check out the user reviews here: https://www.g2.com/products/mailerlite/reviews.
MailerLite prices
MailerLite provides five pricing plans (https://www.mailerlite.com/pricing), including a free version.
Here are the pricing plans:
free up to 1,000 subscribers, up to 12,000 emails per month, with limited functionality;
€ 9 per monthup to 1,000 subscribers, unlimited email and access to all features;
€ 13 per month1,001 to 2,500 subscribers, unlimited email and access to all features;
€ 26 per month2,5001 to 5,000 subscribers, unlimited email and access to all features;
€ 44 per month5,001 to 10,000 subscribers, unlimited email and access to all features.
However, if you intend to use MailerLite for business use, the advice is to use the €9 per month plan, so you can take advantage of all the features and be able to send unlimited emails.
You can also register for free and receive a $20 promotional credit from here: https://www.mailerlite.com/20