What is MonsterInsights
With over 2,000,000 active installations, MonsterInsights (www.monsterinsights.com/) is among the most popular plugins for Google Analytics for WordPress, used by marketing professionals, developers and entrepreneurs.
Features of MonsterInsights
Here are the functionalities (www.monsterinsights.com/features/) that make MonsterInsights one of the most used plugins for Google Analytics for WordPress.
Universal Tracking: You can set up universal website tracking across devices and campaigns with just a few clicks (without any code).
Monitoring ecommerce: MonsterInsights allows you to monitor ecommerce advanced with Google Analytics in 1 click for WooCommerce, Easy Digital Download, LifterLMS and MemberPress.
Privacy complianceWith MonsterInsights you automatically make Google Analytics compliant with GDPR, CCPA (USA), PECR (UK), PIPEDA (Canada) and other privacy regulations. In this regard, I also recommend you take a look at Iubenda.
Monitoring outbound links: The plugin allows you to automatically track every click on outbound links to see exactly which sites you are sending users to.
Affiliate link monitoring: MonsterInsights' affiliate link tracking makes it easy for bloggers and affiliate marketers to accurately monitor their affiliate links with Google Analytics in an earn online.
Improved link attributionadvanced link attribution lets you know which call to action button or link in your landing page receives the most clicks.
File download monitoring: With MonsterInsights you can easily enable event tracking for file downloads, so you can see which files are getting the most downloads, from which pages, countries.
Scroll monitoring: With MonsterInsights you can easily enable 1-click scroll depth tracking to see exactly where your users lose interest in your content, so you can optimize it for maximum engagement/time on site. Scroll tracking is one of the ways to check for possible bottlenecks in the landing page e track conversions, KPIs, ROI and Engagement of blog content and is a feature that can also be implemented with Google Tag Manager and is present in most of the software by CRO such as MouseFlow e Yandex Metrica.
Monitoring of contact forms: MonsterInsights comes with a form tracking add-on that automatically tracks all forms from WordPress to show you the conversion data: a tool that helps, next to the traditional software of Form Analytics, a tracking forms e optimize contact forms.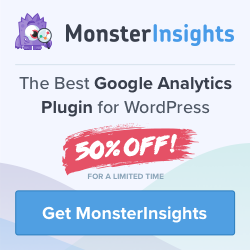 Google AMP Monitoring: MonsterInsights allows you to properly set up Google Analytics tracking for Google AMP to ensure proper attribution when users switch between AMP and non-AMP sections of your website.
User ID monitoring: MonsterInsights visualizes logged-in users' browsing sessions to unlock valuable information about how your subscribers and customers move around your website.
Monitoring of connected users: The plugin easily differentiates between registered and unregistered users allowing for accurate analysis. You can even exclude certain roles such as administrators to avoid biased analysis.
Author Monitoring: MonsterInsights allows you to identify which authors on your site are the most popular, a valuable tool, especially for multi-author publishers and bloggers.
Post type monitoring: MonsterInsights displays statistics on which custom post types (content types) get the most visitors to your website.
Yoast score tracking SEO: View stats for your Yoast SEO score (though to be taken with a grain of salt if not disregarded) and how it affects your traffic.
Monitoring of Published Time: MonsterInsights optimizes the traffic you receive by understanding when your users interact with your content the most.
Category Monitoring: MonsterInsights displays statistics for your WordPress categories to find out which sections of your sites are the most popular.
Tag tracking: the plugin determines which topics are most engaging tags for visitors to your website.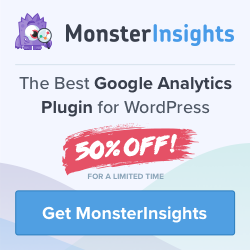 Focus Keyword Tracking: For Yoast SEO users, MonsterInsights can help you segment traffic by targeted keywords.
Monitor phone and email links: MonsterInsights automatically detects phone (tel 🙂 and email (mailto 🙂 connections to help you track conversions from mail and phone communication channels.
Media Monitoring: MonsterInsights is compatible with Vimeo Pro's analytics events, so you can measure who watches your videos, how long and how often your videos are reviewed, a step in the direction of Optimize your videos to increase leads, sales and conversions
URL hash monitoring: If you have a one-page WordPress theme or a single landing page, URL hash tracking provides built-in analytics support for each action.
Custom event monitoring: MonsterInsights allows you to set up custom event tracking without JavaScript, but with the simple use of a shortcode.
Analytics Overview Report: MonsterInsight allows you to view the most important data from Google Analytics in an easy-to-understand report, right in your WordPress dashboard, saving you 5 minutes every day, according to the official website.
Customizable dashboard widget: The dashboard widget gives you quick access to the most important statistics the moment you access your WordPress dashboard.
More on the page in the admin bar: you can quickly view analytics for each individual page from the Insights menu in the WordPress admin bar as you browse your website.
Email summaries: you can get weekly analytics summaries containing the most important metrics sent to your (or your customers') inboxes so you can stay up to date on how your site is performing.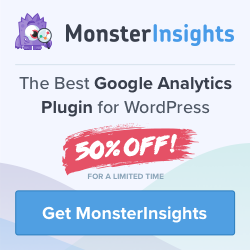 Real-time reporting: You can get real-time stats right from WordPress to see who's online, what they're doing, where they're from, and more.
Popular posts: you can promote your most valuable content using Gutenberg blocks, widgets or shortcodes using traffic data from Google Analytics.
Custom size report: helps you dig deeper by showing you useful stats like most popular authors, best publishing times, popular categories, tags, Yoast focus keywords, SEO score.
Search Console Report: shows you exactly how well your website ranks on Google, so you can further optimize your SEO to increase your organic traffic.
Site Speed Report: helps you improve your user experience and Google ranking by identifying simple ways to increase the speed of your site.
Individual post and page report: Displays statistics of individual posts and pages as page views, bounce rate, time on the page.
Customizable date ranges: MonsterInsights Pro gives you the ability to run each of the reports in the standard views of the last 7 and 30 days, as well as any custom date range you wish.
PDF Exports: You can easily forward Reports to clients or colleagues with the custom PDF export feature. Perfect for agencies, our PDF exports can be customized with a custom logo.
Access control for custom reports: You can restrict access to MonsterInsights reports based on the user's role. For companies with multiple employees, large publishers and ecommerce websites.
Headline Analyzer: functionality for writing headlines that encourage clicks and shares on social media.
Contextual Insights: you can get actionable tips based on actual visitor data on how to get more traffic, increase engagement and many more.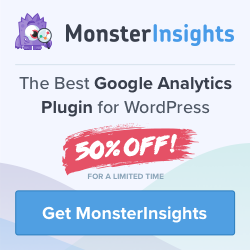 5 reasons to use MonsterInsights
That's why marketers, entrepreneurs, and developers choose MonsterInsights specifically.
Set up Google Analytics on WordPress in minutes
MonsterInsights (www.monsterinsights.com/) simplifies the configuration of Google Analytics in WordPress. You simply need to install the plugin and enable the functionality you want, no coding required.
Know your website visitors: the Public Report
With MonsterInsights (www.monsterinsights.com/), you can view useful information about your visitors right in your WordPress dashboard. The Audience Report shows what country your visitors are from, what they are most interested in, what device they are using, their age, gender, and more. You can use this information to improve your overall web strategy.
How they find and use the site: Behavior Report
Want to see what works on your website and what doesn't? The MonsterInsights Behavior Report (www.monsterinsights.com/) shows exactly how people find your website, what keywords they searched for, who referred them, what they did on your site, and more. You can use this information to discover new partnership opportunities and the right areas to focus on.
Focus on the content that matters: the Content Report
MonsterInsights helps you eliminate the "guess work" when it comes to finding out what content your visitors are interested in. The dedicated Content Report (www.monsterinsights.com/) shows exactly what content gets the most visits, so you can analyze it and optimize it for higher conversions. You can combine this with the search console report and custom dimensions.
View all ecommerce metrics in one place
Get answers to all your top ecommerce questions from one report. MonsterInsights (www.monsterinsights.com/) shows important ecommerce metrics like total revenue, conversion rate, average order value, top products, top referral sources, and more. You can use this information to increase your sales and revenue.
Integrations
Let's see what software MonsterInsights (www.monsterinsights.com/) integrates.
WooCommerce: With MonsterInsights you complete advanced ecommerce monitoring for WooCommerce with just one click. Get a dashboard of WooCommerce reports as well.
Easy Digital Download: you can complete Enhanced Ecommerce monitoring for the Easy Digital Download plugin and view all statistics in the reports dashboard.
Forms created with WordPress: With MonsterInsights, you can enable form tracking for popular WordPress form plugins, including page builder plugins like Elementor, Divi, Beaver Builderwithout any code.
WPForms: MonsterInsights enables advanced form tracking for WPForms with support for AMP, AJAX Forms and custom reports. It also archives parametre UTM with entries for easy filtering.
Formidable Forms: MonsterInisghts allows advanced Formidable Forms tracking along with custom reports, so you can see overall form conversions.
Gravity Forms: the plugin allows the monitoring of custom forms created with Gravity Forms showing statistics on how many users view and submit your forms (without any code).
Ninja Forms: By default, Ninja Forms is not compatible with Google Analytics due to Javascript. MonsterInsights makes it easy to track Ninja Forms.
Contact Form 7: Native integration for Contact Form 7 helps you get full Google Analytics form tracking without any code or settings.
Pretty Links: Pretty Links is one of the most popular affiliate link plugins. MonsterInsights automatically detects and tracks all Pretty Links clicks within Google Analytics.
MemberPress: MonsterInsights provides eCommerce tracking for MemberPress, so you can view important eCommerce metrics with 1 click.
LifterLMS: Fully enhanced eCommerce tracking for LifterLMS, WordPress LMS plugin, so you can view important eCommerce metrics with 1 click.
ThirstyAffiliates: MonsterInsights can automatically detect if you are using ThirstyAffiliates and automatically tracks all of your affiliate links, regardless of the link prefix you are using.
Google Adsense: MonsterInsights Ad Tracking shows the number of clicks received by each banner ad, so you can identify the most effective placements on your site.
Google Optimize: Google Optimize integration helps you design and implement A/B test on your site without any code.
Facebook Instant Articles: By default, Facebook Instant Articles don't work well with Google Analytics. MonsterInsights solves this problem, allowing you to get audience insights.
CookieBot: CookieBot offers a cookie consent solution for GDPR and ePrivacy Directive (ePR) compliance. MonsterInsights offers 1-click integration with CookieBot.
MonsterInsights: Reviews
According to the official website (www.monsterinsights.com/), we're talking about over 2,000,000 professionals using the plugin.
How to use MonsterInsights
MonsterInsights (www.monsterinsights.com/) is compatible with the WordPress.com platform if and only if you're using the Business plan (which allows WordPress users to install plugins). It is compatible with all regular WordPress installations.
MonsterInsights works perfectly with WordPress MultiSite, whether activated on the network or activated on individual sites. Automatic updates also work for MultiSite. MonsterInsights is a WordPress plugin and will not work on sites that do not use WordPress such as CMS MAIN.
The plugin requires at least WordPress 4.9 and a modern web browser for viewing the admin. IE10 or earlier versions are not supported for viewing the MonsterInsights admin area. Visitors using your site will be tracked by Google regardless of browser.
How to install and activate MonsterInsights
To get started, you'll need to download the MonsterInsights plugin by purchasing it from its website (www.monsterinsights.com/) and install it on your WordPress site in the usual ways (via FTP or by uploading it zipped from the plugin adding section)
Once activated (like all plugins) you need to enter the plugin license code that you find in your MonsterInsights account.
A preliminary tip is to not only remove any other Analytics plugins on the site, which could interfere with MonsterInsights, but also remove the Google Analytics tracking code, which could cause Google Analytics to track your traffic twice.
Here are some screenshots to guide you through the installation:
gtag.js and MonsterInsights
What is gtag.js, the Global Site Tag of Google
As of September 2017, Gtag.js is the new Global Site Tag for Google Analytics e Google ADS.
This is an evolution of the code snippet that you find, as before, in Google Analytics, in Administration > Properties > Tracking Information > Tracking Code or regarding Google ADSWhen creating a conversion or when setting up the remarketing.
Gtag.js was created to manage in a unified way, with a single code snippet, Google's tracking tools, as Google puts it "measurement, conversion tracking and remarketing products".
2 ways to install gtag.js on WordPress
To implement gtag.js to our site, simply add the code snippet before closing the tag.
The easiest way to install the Global Site Tag in WordPress is through the MonsterInsights plugin (www.monsterinsights.com/).
This is a new time-limited option that you can use to switch from the old tracking code (analytics.js) to the global site tag with one click:
MonsterInsights:
will automatically detect analytics.js events
transmits them via the global site tag (gtag.js)
in our next version also, the Global Site Tag will be made the default tracking code all MonsterInsights users will be upgraded to gtag.js.
MonsterInsights: Prices
You can choose from three different packages that you can find on (www.monsterinsights.com/pricing/):
Agency, a solution developed for marketing and web development agencies to speed up their flow. The cost is $ 399.50 per year instead of $ 799, with a 50% discount;
Pro, ideal for e-commerce sites and businesses looking to achieve substantial results. The cost is $ 199.50 per year instead of $ 399, with a 50% discount;
Plus, for small businesses and publishers who want to do more. The cost is $ 99.50 per year instead of 199, with a 50% discount;
14 day money back guarantee
By purchasing MonsterInsights you have 14 days to request that your purchase be refunded: www.monsterinsights.com/.