What is Movavi
Movavi (www.movavi.com/it/) offers a wide range of multimedia programs that help you create videos, music, and photos on any platform and device. Movavi develops powerful and easy-to-use software that helps users edit, manage and share their content.
Since its founding in 2004, Movavi has grown from a startup run by a small group of enthusiasts to an international company with over 400 employees. Its ever-expanding product range is sold in more than 200 countries.
Movavi Features
Video
Movavi offers the following main features.
Video Suite
Movavi Video Suite 2021 (www.movavi.com/it/suite/) is an all-in-one PC video maker with editor, converter, recorder and everything you need for editing. The perfect tool for agile work and distance learning. The download is free.
Video Suite combines all the essential features of Movavi's best video editing programs and adds several unique features not found in other Movavi apps.
Video editing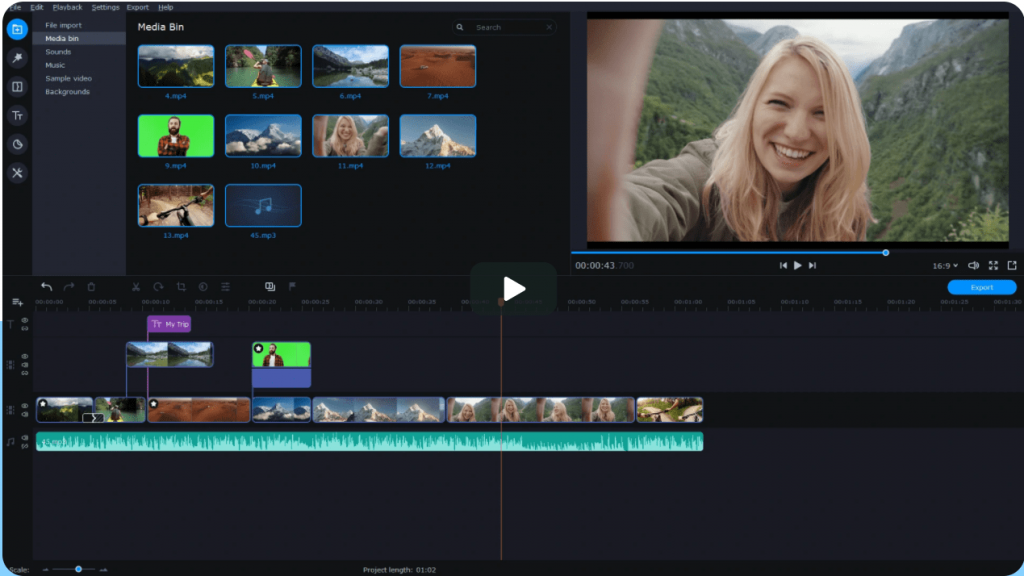 Quickly edit any video with a multipurpose app. Movavi Video Editor Plus 2021 (www.movavi.com/it/videoeditor/) is a tool to enrich videos with special effects, keyframe animations and ready-made introductions.
Video Editor features include: Chroma Key, which allows you to easily change the background of your clips, new user interface, fast file processing and rendering.
Video Business Suite
The Business Suite video editor and screen recorder for businesses (www.movavi.com/it/business-suite.html) allows you to create videos for your business, promote your brand, reach your audience and increase sales and conversion rate. From this point of view you can read the article on How to use video to increase leads, sales and conversions.
Video Conversion
With the feature called Movavi Video Converter 2021 (www.movavi.com/it/videoconverter/)you can:
convert any media file to over 180 formats, including HD;
compress videos without compromising quality;
Rotate, crop and merge video fragments.
Creating presentations
Create presentations with a multipurpose app, Movavi Slideshow Maker (www.movavi.com/it/slideshow-maker/). Specifically, you can:
make slideshows with three simple operations;
create images with filters, creative effects, transitions, and more;
add music to make the slideshow more interesting;
share the slideshow with friends and family on YouTube directly from the app.
Screen recording
With the feature called Screen Recorder (www.movavi.com/it/screen-recorder/) you can record:
Gecata by Movavi
Considered one of the best software to record gameplay on PC, Gecata by Movavi allows you to capture the best moments of your games and share them online. It is a lightweight and free game streaming and recording software for PC that allows you to record gameplay videos on PC or a Windows desktop with one click.
Photos
In addition to the aforementioned Movavi Slideshow Maker with which to create slideshows, Movavi offers Picverse and Photo Manager.
Picverse
With the feature called Movavi Picverse Photo Editor (www.movavi.com/it/photo-editor/), a professional-level AI-based photo editor, you can quickly edit any image.
Movavi Picverse is designed for all photographers. Thanks to the smart photo editor you can edit images in no time and get amazing results. Thanks to the intuitive user interface you can start working in the image editor right away.
Photo Manager
Movavi Photo Manager (www.movavi.com/it/software-gestione-foto/) is a photo management software from Movavi for Windows and Mac, which will help you save time for:
catalogue the collection of digital images;
organize the photos;
find duplicates;
edit images;
add tags to image files;
filter images by city;
create backup copies and restore data in case of loss.
For work
In addition to Video Suite Business to create videos for your business and Picverse to edit images, Movavi offers PDFChef a program to edit, view and organize PDF files.
PDFChef allows you to perform routine tasks related to PDF documents without risking the security of your device. The trial version is available for free download to test all the features of the full version of our PDF editing software.
For education
Students and teachers
With the feature called Movavi Academic (https://edu.movavi.com/it), a distance learning program useful for both teachers and students, you can:
create training videos:
provide visual instructions;
share content;
record and archive content.
Schools and universities
The educational software Movavi Academic (https://edu.movavi.com/academic-for-schools/it) dedicated to schools has been developed to create a more effective teaching and learning environment with effective e-learning tools.
Opinions and reviews on Movavi
Over 3 million users use Movavi. On the homepage www.movavi.com/it/ you can read reviews and opinions released by industry professionals and technical websites, including Salvatore Aranzulla, Navigaweb.net and Macitynet.it, to name a few.
To the page www.movavi.com/about/testimonials.html comments from users who already use Movavi.
Prices by Movavi
You can find an overview of prices for the various services offered by Movavi on the store page: www.movavi.com/store/.
You can test the products for free. Purchases are covered by a 30-day money back guarantee.
In the event of technical problems or other inconveniences that cannot be resolved, the purchase price will be refunded in full within 30 days.