What is ProntoPro
ProntoPro (www.prontopro.it) is a digital platform that aims to match potential clients with professionals in any field. The idea was born in Italy by Silvia Wang and Marco Ogliengo, who created an online portal that later evolved into an app capable of creating new job opportunities in a wide variety of fields, from web development to plumbing, from interior design to physical therapy.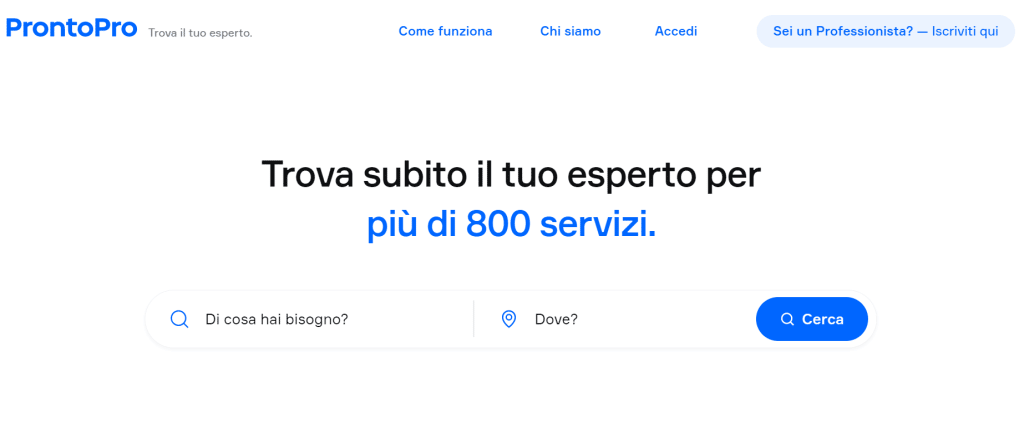 Features of ProntoPro
Those seeking a professional will simply have to:
Connect to the site www.prontopro.it or access the application
Write what you are looking for in the search field provided
Fill out a questionnaire so that the system can select profiles of the most suitable professionals
In a short time the searcher will be contacted by the professionals who meet the selection criteria. In choosing the professional most in line with your needs, you can see previous work performed, prices, and pictures confirming their execution.
Each Professional on ProntoPro has a verified profile with prices, pictures, certifications, and reviews from other users who have used their services. ProntoPro offers a ranking system for professionals based on the ratings provided by other customers.
You can contact the professionals by chat or phone to work out the details of the job.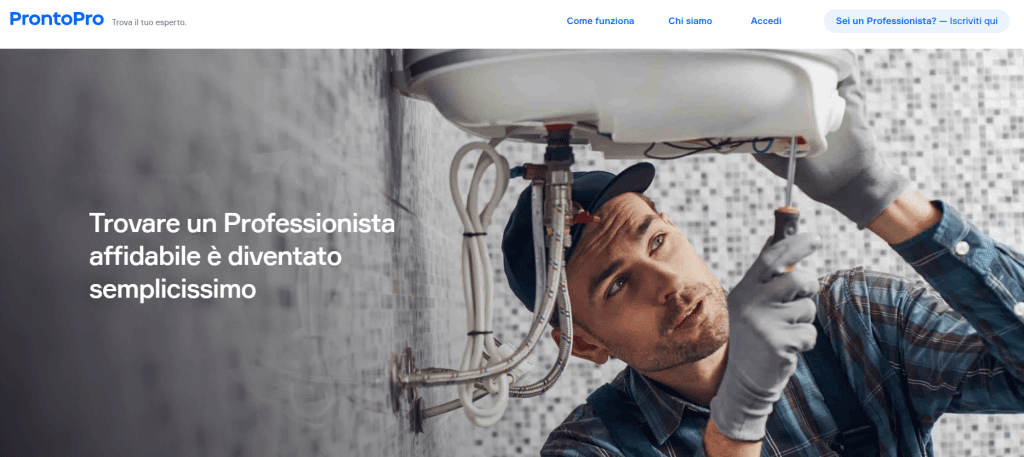 So that you can get an idea, let's point out some of the categories available on ProntoPro:
Whitewashing and painting
Solar panel installation
Plumbers
Air conditioners and air conditioners
Construction and renovation work
Massage
Electricians
Cleaning company
Nutritionists
Lawyers
Moving
Physiotherapy
Clearance
Blacksmith and iron/steel work
Gardens and terraces
Joinery
Dentist and teeth whitening
Dermatologist
Architects and architectural firms
Upholsterer and leather processing
Flooring and parquet
Also:
Photography
Psychologist and coaching
Shipping
Nurseries
Accountants
Disinfestations
Van rental
Awnings
Personal trainer
Podiatrist
Car and vehicle rental
Interior Design
Condominium Administrator
Tiler
Fixtures and fittings
Asbestos disposal and asbestos disposal
Home appliance and TV repair
ProntoPro for professionals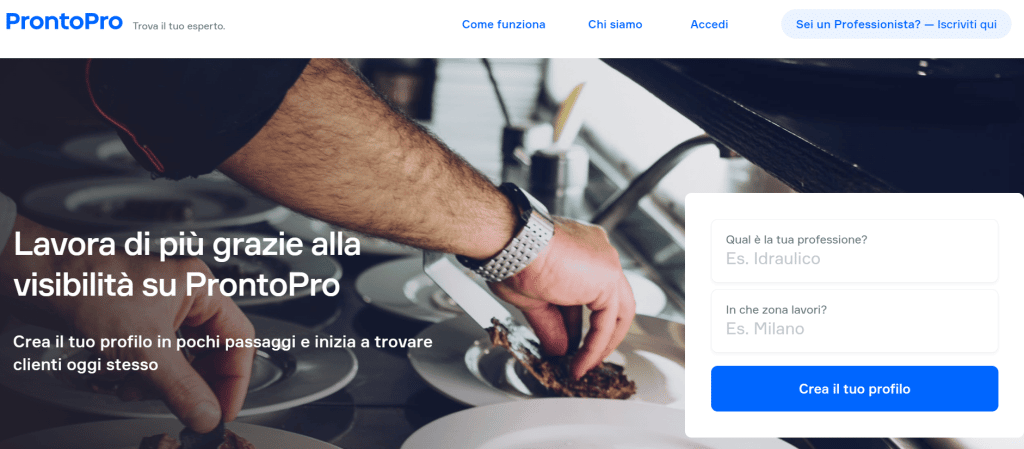 Professionals seeking new clients will need to sign up with ProntoPro (www.prontopro.it) by clicking on "Are you a professional? Sign up here" at the top right and create a free profile. When signing up, indicate precisely where you live or work so you can receive inquiries related to your area of expertise.
Benefits of ProntoPro
We outline what we believe are the advantages of ProntoPro:
For customers, the service is completely free of charge
Professionals can register and receive free customer inquiries for free, pay in the form of credits just for responding to them
Fast and efficient operation: customers search for the service they are interested in and the relevant city, and typically within 48 hours they will receive up to 5 customized quotes 
ProntoPro is a good tool with which professionals can gain visibility and make themselves known
By completing enrollment and purchasing a credit package, you can receive 50 euros in free credits from here: www.prontopro.it/promo
Opinions and reviews on ProntoPro
Pronto Pro to date has over 500 service categories, 5 million customers in Europe and 690,000 registered professionals.
You can check the opinions of users who use the service on the official website or on Trustpilot (https://it.trustpilot.com/review/prontopro.it).
ProntoPro Prices and Credits
ProntoPro has no membership or subscription fees. Those seeking a professional are under no obligation to accept the quotes provided to them and do not have to pay anything to ProntoPro, regardless of whether the work is completed or not. Clients only have to pay the amount of work directly to the professional.
Professionals, on the other hand, in order to respond to clients' requests must have credits, typically 2, 3 or 5 or more credits depending on the offer (by completing enrollment and purchasing a credit package, you can receive 50 euros in free credits from here: www.prontopro.it/promo). A professional receives customer inquiries for free, and must pay a small fee to ProntoPro if he decides to send a quote to a customer who has contacted him. No commission is charged on the final work.
Credits are ProntoPro's virtual currency, and are purchased in packages. A single credit has an approximate cost of 2.25 euros, including VAT. Purchased credits are valid for 24 months from the date of purchase.
In order to purchase credits, it is necessary:
Login to your profile
Click on the box in the upper right corner with first and last name
Select the item "Buy Credits"
Choose the package that best suits your needs
Enter billing information
Choose payment method from PayPal, credit card, prepaid card, Visa, Mastercard, Postepay, American Express, wire transfer
Proceed with the purchase
By completing enrollment and purchasing a credit package, you can receive 50 euros in free credits from here: www.prontopro.it/promo