What is Squarespace
Squarespace (https://www.squarespace.com/) is a website builder for creating professional websites. Anthony Casalena developed Squarespace as a blog hosting service and public as a company in January 2004.
How Squarespace works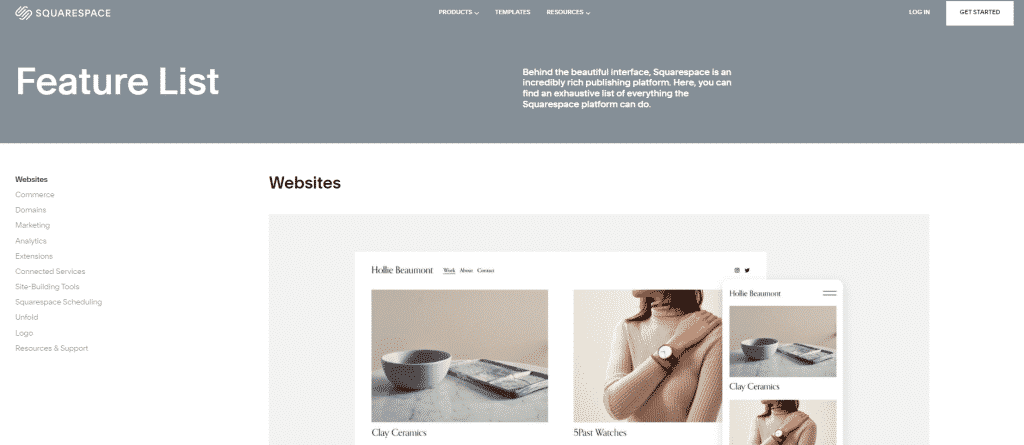 We indicate below the functionalities of Squarespace (https://www.squarespace.com/feature-index).
Website Builder
With the Website Builder offered by Squarespace (https://www.squarespace.com/website-design), you can choose from a wide selection of website templates and customize the design to fit your personal style and professional needs.
With Squarespace you can create a page using pre-designed structures for specific purposes such as Contacts, About, Blog, Portfolio, Products and more. Page elements are organized to quickly create professional layouts and showcase your content. You can add or remove blocks to create a custom look.
You can add text, photos, videos, audio, galleries, products, newsletter subscriptions, appointments, calendars, tour dates, reservations, menus, forms, maps, links, files, social links, buttons, quotes, custom code, graphics , and more.
Template customization
With the function designer template (https://www.squarespace.com/websites/designer-templates) you can create flexible, relevant, and easy-to-customize pages with sections designed to help you bring your ideas to life quickly and beautifully.
Squarespace has a hundred templates, which seems like a small number compared to the 500+ templates offered by Wix, but all of the templates are responsive and some have mobile-specific functionality. 
Squarespace Design Panel
You can make changes using HTML, CSS and JavaScript. Now, with the new version 7.1, you can add as many elements as you want to make your site distinguishable from others.
Duplicate pages and sections
With Squarespace you can duplicate pages and sections for testing purposes or to speed up the process of creating your website.
Design Tool
Squarespace offers flexible layouts, custom color palettes, Google fonts and TypeKit, free high-quality images with Unsplash, built-in photo editing capabilities, video and background banners, and more.
Design Panel
With hundreds of customizable settings, including fonts, colors, and internal spacing, every website created with Squarespace can be made unique with just a few clicks.
Custom CSS
Custom CSS can be applied to any site via our built-in custom CSS editor, which also provides image and font file storage for CSS resources.
Commenting system
The fully integrated comment system supports threaded comments and all comments have individual like counts. The comment system includes:
content moderation;
community management;
management of block comments;
Reader feedback to flag spam or trolls;
abuse filters;
Customizable settings, such as automatically turning off comments after a deadline.
Passwords and page blocks
You can lock the entire website with a password while you're making changes, and customize the page and message to show visitors when the site is password protected.
Custom site search engine
Squarespace has a robust internal search engine that provides your visitors with accurate search results.
Integrated mobile websites
Each design automatically includes a unique mobile experience that fits the overall style of your website, so your content looks good on every device.
Website Analytics
Monitor website traffic, find out where your website visitors are coming from and identify engagement trends using the Squarespace analysis tools (https://www.squarespace.com/websites/analytics).
Extension
Squarespace allows you to extend the power of your site by connecting to shipping, order fulfillment, finance, inventory and sales and marketing extensions, including AfterShip, Freshbooks, Outfly and TaxJar (https://www.squarespace.com/extensions/home).
Free Logo Maker
Squarespace offers a free logo design tool to help you create a simple logo for your website.
Squarespace App
Manage your Squarespace site wherever you are with the app available on Android and iOS. Add and edit new pages, add new images to galleries right from your device, write and edit new blog posts, make style changes and review recently updated pages and traffic analysis.
The Squarespace Unfold app offers templates to help you create visually appealing stories for social platforms.
eCommerce
Reporting and analytics
Squarespace offers a decent range of reporting tools. The hosted solution gives you a real-time overview and detailed analysis of key factors such as visitors, orders, revenue and so on.
Some of the best features of Squarespace's analytics system include:
Cart abandonment: This feature helps you get detailed information about each abandoned cart and the success of your abandoned payment recovery email campaign.
Traffic SourceFind out where visitors are coming from when they visit your site by channel. If you use the Commerce Basic or Advanced plan, you can see how much revenue each channel, such as social, email and direct traffic, brings to your business.
Activity Log: you can see a list of every time a visitor has accessed a URL on your site in the last seven days. Includes IP addresses.
Inventory Management: The inventory panel is quite easy to use. From here, you can check your inventory, find your item via search, add new products, change stock levels or bulk edit your product.
Email marketing
The Squarespace email campaign (https://www.squarespace.com/email-marketing) helps you update your site and send campaigns within the same interface. Also, with email campaign tracking analytics, you can easily track your campaign and make necessary changes.
You don't have to worry about finding an email template for your campaign. You can choose one of the available email themes or create one from scratch.
Social integration
With Squarespace, you can connect your accounts with over 20 social platforms, including Facebook, Twitter, Instagram, and YouTube.
Sync with Dropbox for easy access to photo collections or import content directly to your site from Instagram, Twitter, and more.
Creating ads
Squarespace offers some of the best ways to make the most of your ad campaign with Instagram integration, Facebook Pixel, Facebook Dynamic Ads and so on.
You can create your own Instagram tag, track your campaign using Facebook Pixel, automatically create ads for your product with dynamic Facebook ads or place ads on your site with Google AdSense. In addition, you can redeem your credit Google Ads when you spend a certain amount and use this credit to create ads for your site.
SEO
Every website and online store built with Squarespace comes with a suite of built-in features and helpful guides that help maximize visibility among search results (https://www.squarespace.com/marketing/seo).
Benefits of Squarespace
Here are the main benefits of using Squarespace:
Optimized templates for desktops, tablets and mobile devices;
Platform of ecommerce;
Ease of use;
Squarespace mobile apps allow you to edit pages, blog posts, and ecommerce features;
Ability to restore deleted posts and pages for up to 30 days.
Integrations
Squarespace has a growing ecosystem of third-party apps and extensions. You can easily integrate with popular social channels on your Squarespace website.
Squarespace integrates with Unsplash and Getty. These integrations allow you to free up images like Unsplash and paid stock images (Getty) from libraries to your site.
Opinions and reviews on Squarespace
Squarespace is positioned on the market as a solution CMS to create and manage blogs, portfolio sites and online stores. Currently, Squarespace hosts 2,349,903 live sites online, the second most popular hosted solution on the Internet.
Squarespace has obtained a score of 4.4 out of 5 on g2.com, where you can consult hundreds of testimonials from users who have already tested the service: https://www.g2.com/products/squarespace/reviews#reviews.  
Squarespace prices
Squarespace's premium options are quite affordable, ranging from $11 to $36 per month when you pay annually. This is a fairly similar price to other options on the market.
You can choose from four options (https://www.squarespace.com/pricing):
Personal at €15 per month;
Business at € 24 per month;
Basic Commerce at € 28 per month;
Advanced Commerce at € 42 per month.
By choosing to pay annually you can get up to 30% off.