What is Streak for Gmail
Integrated into Gmail, Streak (www.streak.com) is a solution CRM (Customer Relationship Management) which guarantees a email marketing efficient with Gmail, thanks to the ability to:
check if an email is opened or read;
send bulk emails;
send follow up;
schedule emails;
organize the data;
ensure greater productivity through G Suite integration.
Users can also:
automatically receive activity details in your inbox
Sort messages to retrieve specific results using the search functionality
Streak allows companies to send invitation links to various departments in the organization and grant permissions to specific employees. Users can use performance reports to get detailed information about product development processes and sales operations.
It also offers mobile apps for iOS and Android devices, which allow users to update customer details and share critical information with team members even from remote locations.
Streak comes with an application programming interface (API), which allows companies to modify the system and integrate it with various third-party systems. It is available for free and on monthly or annual subscriptions. Support is extended through live chat and other online measures.
Streak has been announced as Google's 2018 Technology Partner of the Year, in recognition of fully integrated CRM and deep, powerful integration with all of GSuite: Gmail, Calendar, Drive and Sheets. Streak is also Google Premier Partner.
Features of Streak CRM for Gmail
Streak is the only CRM built entirely within Gmail. Let's explore its main features (www.streak.com/features).
Sales Pipeline
Streak CRM allows you to create an unlimited number of pipeline and, with a Professional or Enterprise plan (www.streak.com/pricing), you can also create unlimited rows (called elements) within each pipeline. Filters, groups, sorting, and search features let you configure pipelines to the view you need and then save it to share with team members. You can also link related pipeline items for quick navigation between them.
Boxes
Every box represents a contact, lead or any other factor you want to track. They act as building blocks of your pipeline. Boxes can contain information such as emails, contacts, comments, notes, tasks, file attachments, data fields and more.
Customizable workflows
The software allows you to configure your workflow to fit your processes. You can add, delete or move steps in the pipeline, as well as color-code them for easy monitoring.
Alerts
View detection sends a notification when a recipient reads your message. You can sort emails in the Sent folder by whether they've been viewed or not, so it's clear which contacts require a followup.
Mail Merge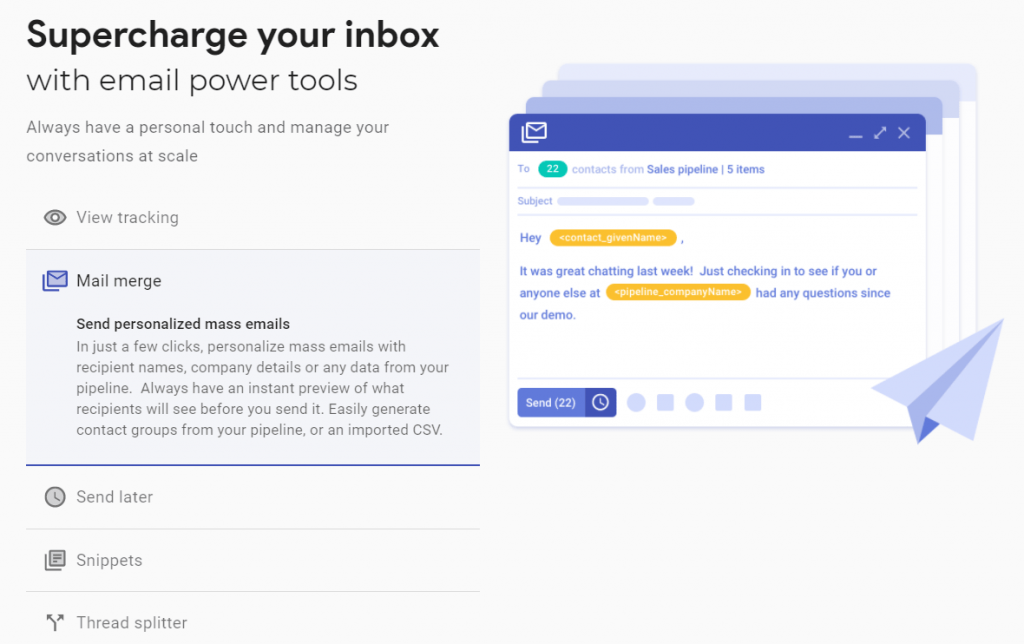 If you need to send mass emails that include personalization, this feature has the capabilities you need. You can pull data from your pipeline to personalize elements such as company information or recipient name. The preview mode allows you to check your emails before sending them.
Schedule sending
You can schedule emails to be sent at a set time and edit or cancel them from the draft view.
Snippet
With this feature, which acts as a template, you can create a library of your most used emails to reuse whenever needed. Links allow you to quickly insert content. Templates are shareable among team members.
Reporting
Available with Pro and Enterprise plans (www.streak.com/pricing), this function allows you to generate reports based on the data in your pipelines. The system offers integrated sales and pipeline reports that can be customized, downloaded and shared via email.
Sales reports allow you to track information such as total value currently in your pipeline, value per stage, close rate, expected close value, and more. Pipeline reports include total interactions, flow, the number of boxes assigned to each user, and the number of boxes in a given phase.
Permission
With the Pro or Enterprise plan (www.streak.com/pricing), you can control who views and edits information in the system. Owners act as administrators, with the ability to edit teams, roles, pipelines, and other settings. Members are limited to viewing pipelines and contacts and cannot edit user roles or team members.
How to use Streak
Streak CRM for Gmail is suitable for many types of business, including sales teams, project management, business development, fundraising, support, recruitment and real estate. It can also be fully customised to meet the needs of your business and is therefore suitable for all types of businesses, large and small.
Streak CRM allows you to manage your sales pipeline from Gmail. All the information you need to bring your contact (acquired for example from Lead Generation) to a closed deal are included and you can easily see what stage of the sales process each of your contacts is in.
CRM also allows you to assign a prioritisation to your leads so you know how likely they are to convert and you can prioritize your time accordingly. Each lead can be assigned to one or more team members so you can see exactly who is working on which contracts, and you can also see the value of each contract so you know how much revenue your company can expect when deals close.
All emails you send are automatically tracked and logged in the CRM, so everyone on your team can see what's going on with each contact and other team members can pick up where you left off.
The layout of theinterface CRM is flexible, so depending on your sales strategy you can add or remove columns to make things easier for you and your team.
Streak also has deep integrations to allow collaboration between different teams, so if you're selling a product to a customer and they need to contact support for a different reason, you can still view all communication between support and the customer without leaving your inbox, so you can stay up to date on everything you need to know.
You can keep track of your outgoing emails, which allows you to see when a customer has read your email and how often you have the ability to sort contacts by recent activity. This helps you understand how "hot" the potential customer is so you can tailor your sales process accordingly.
To help you better understand your progress, you can create visual charts and graphs using Streak.
To save time, Streak lets you create joins so you can send mass emails that include personal information such as the customer's name and company, so it's not obvious to the customer that a mass email was sent.
You can schedule followups and share them with your team so you never miss a sale, and you can even add notes to the reminder to help you remember exactly what you need to do.
And if you get a lot of unimportant emails while you're busy doing something more important, you have the option to Postpone the emails until a better time (between an hour, a day, a week or even 6 months) when it will make it show up again at the top of your inbox as an unread email.
You can also pin important emails to the top of your inbox, as well as being able to easily sort and filter your emails to find exactly what you need when you need it.
To avoid having to type the same emails over and over again, Streak lets you save frequently used email templates as "Snippets" to use whenever you need them. You can also share your snippets with your team, so everyone can benefit and save time.
The advantages of using Streak
Here is a list of benefits and advantages of Streak CRM:
Centralized DataThe software enables efficient data management.
Eliminates screen switching: Because Streak is integrated into Gmail, you can perform tasks and view information in the same place. This ease of access eliminates the need to constantly switch back and forth between your CRM and other applications, which can save you time and help you be more productive.
Offers a user-friendly experience: Streak relies on integrations with popular tools that make it easy to use. Configuring settings, adding and editing items, and other actions are intuitive and easy to perform. For example, you can add existing data by uploading a CSV or using the Google Sheets integration.
Makes work more comfortable: The app is integrated with the entire Google Suite (Sheets, Drive, Chat, and so on) so you can use the apps you already know. You can take advantage of its connection with Zapier to expand your options to over 1,000 additional apps. You can also use the open API to integrate with other internal systems or create your own integrations.
Enables perfect collaboration: The solution allows teams to share key information such as tasks, notes, call logs and emails so that everyone is on the same page and acting in the most up-to-date context.
Helps you stay on top of thingsThe function Streak Upcoming provides a visual list of tasks, centralized in a single view. Tasks are organized by due date, but you can filter them by the pipeline they're in or the person they're assigned to. Streak Upcoming renders as a sidebar next to the inbox, pipeline, or box, so all tasks are easily accessible.
Provides access on the go: Streak has a native mobile app available for Android and iOS devices. Users can access tasks, view pipelines, automatically record calls, and add pipeline contacts to their phones.
Includes a solid protection: data is stored on Google Cloud Platform, providing the same level of security and infrastructure as other Google products. Each new version of the app itself undergoes a rigorous review process by the Google Chrome team to ensure developer compliance.
Streak also allows you to manage your entire sales process from your Gmail inbox, so that all emails are tracked and viewable by other team members who are working on the same projects/pipeline as you.
Integrations
Streak works with your existing tools and workflow:
G Suite: The software ensures an efficient process by connecting to G Suite;
ZapierOver 1000 integrations through Zapier, the easiest way to integrate your workflow with other tools;
APICreate custom integrations or integrate with internal systems.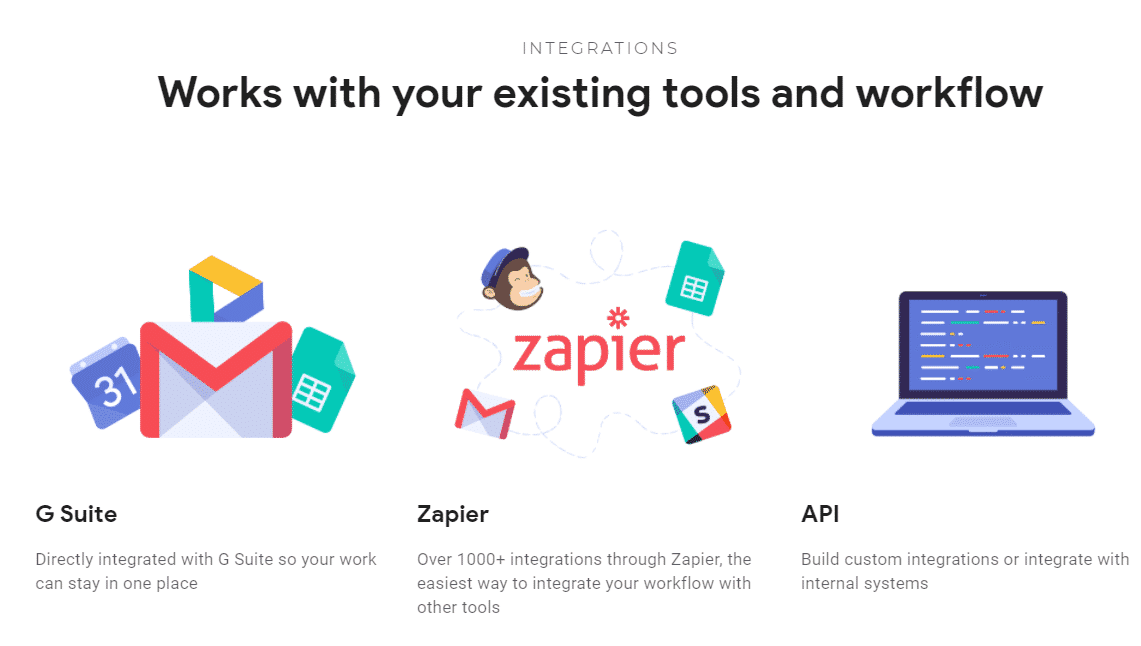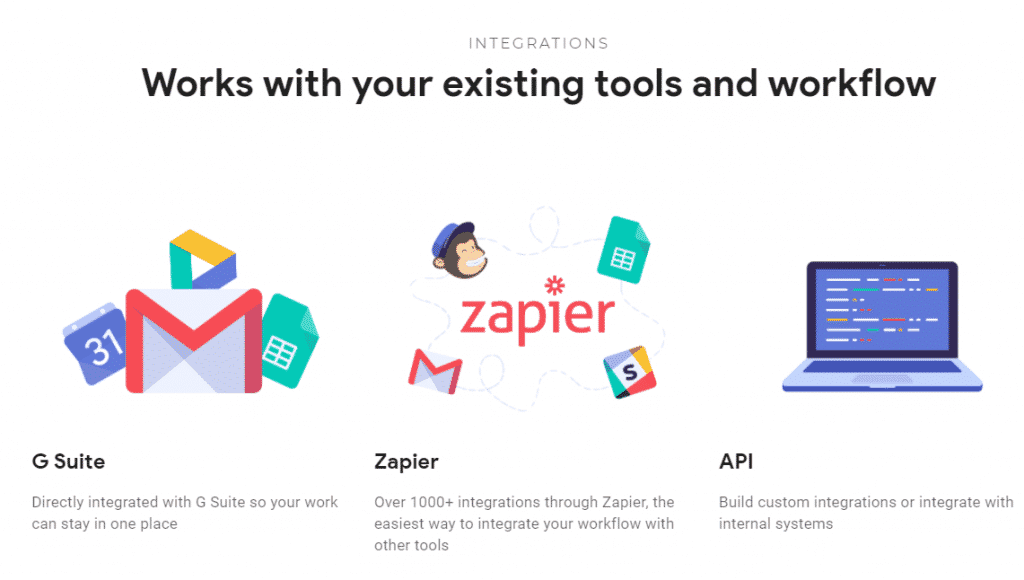 Opinions and reviews on Streak
Streak boasts a 4.5-star rating on the Google Chrome store and serves nearly 750,000 users. It is used by individuals and businesses across all industries.
Clients include Uber, Keller Williams, TechStars, Lyft, Blue Apron, Opendoor, WeWork and The Economist.
Check out user reviews and opinions here: https://chrome.google.com/webstore/detail/streak-crm-for-gmail/pnnfemgpilpdaojpnkjdgfgbnnjojfik/reviews
Prices Streak CRM for Gmail
Streak offers a free plan and one free trial version. Streak CRM and email tools are free for individual users with a limited amount of data storage for the number of boxes in the pipeline.
If you need additional storage space or need to use Streak with your team, you'll need to upgrade to a paid plan: www.streak.com/pricing.
The paid version includes:
Plan Onlyat 19 $ per user per month;
Plan Proat 59 $ per user per month
Plan Enterpriseat 159 $ per user per month.
If you choose to pay annually, there is a 20% discount, as you can see here: www.streak.com/pricing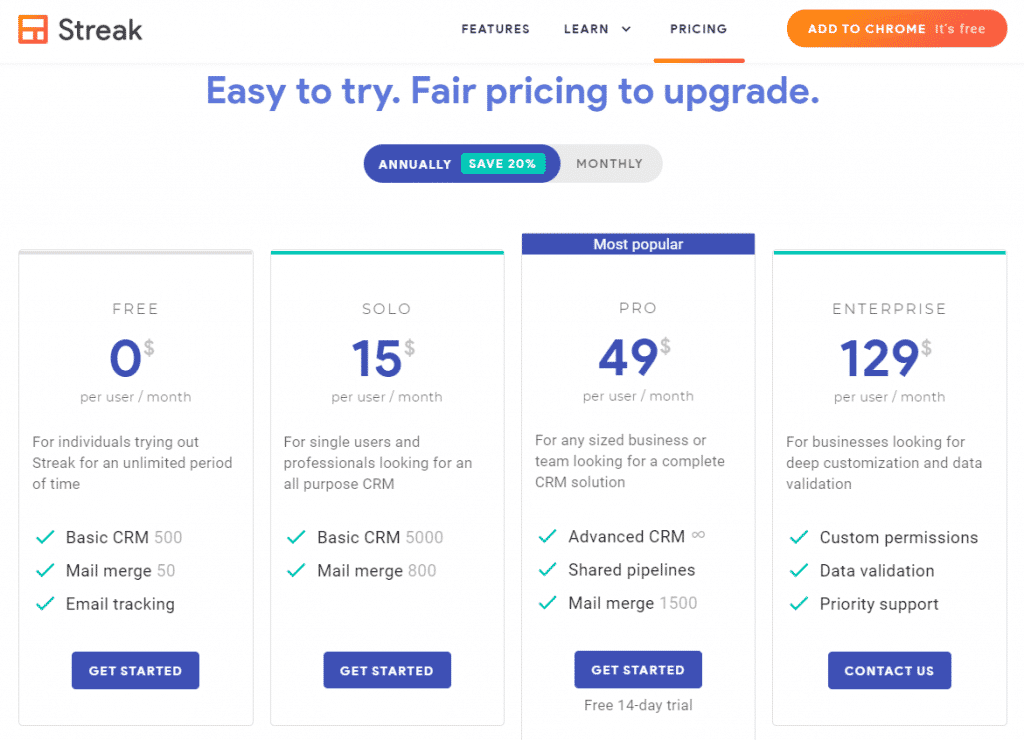 Add it to Chrome, it's free. It only takes 30 seconds to get started: www.streak.com