What is TranslatePress
TranslatePress (https://translatepress.com/) is one of the most popular multilingual plugins to translate your site Multilingual WordPressEasy and quick to set up, it offers interesting features and allows you to start translating right away. WordPress with a free plan. It's the plugin I chose to use to manage the translations on this site.
In this guide, we will share with you the features, pricing and distinctive characteristics of TranslatePress.
How TranslatePress works
TranslatePress allows you to translate posts and pages directly from the frontend of your website. This means you can see what you're translating in real time and edit the translation.
Let's take a look at its main features and tools.
Translate entire page
TranslatePress translates everything you see. The interface allows you to translate the entire page at once, including the output of shortcodes, forms, and page generators.
Translation Blocks
The Translation Blocks option allows you to translate larger blocks of html in a single operation by merging multiple translation strings into a translation block.
Image translation
This useful function (https://translatepress.com/docs/image-translation/) allows you to translate images directly from the translation interface. This is an extremely useful tool when you need to show different images for each language on your website.
Automatic translation
You can quickly get your content automatically translated with Google Translate or DeepL.
This is possible by connecting TranslatePress with the Google Translate API and DeepL: the procedure is free or inexpensive and allows you to automatically translate a page into the selected language as soon as it is published. You can then make changes only to the parts that need improvement or modification.
Automatic translation with DeepL and DeepL Pro
In particular, the automatic translation option of DeepL (https://translatepress.com/docs/addons/deepl-automatic-translation/) offers the ability to automatically translate your site with the DeepL translation service instead of just Google Translate. Keep in mind that this requires access to the DeepL API which is priced separately.
Customizable language selector
The extended language selector includes a drop-down menu that follows the user on every page, a shortcode, and menu items that you can add to any WordPress menu.
SEO Pack
SEO Pack (https://translatepress.com/docs/addons/seo-pack/) allows you to translate page URLs, SEO and social titles and descriptions, and image ALT tags. It also adds multilingual sitemap support to all popular SEO plugins.
Specifically, using this addon you can translate all SEO elements from each page:
Custom post/page URL
page title
page description
image alt tag
Facebook and Twitter title and descriptions (these are usually added by the SEO plugin and are displayed when users share your content)
The SEO Addon is only available in the paid versions of the plugin.
Multiple Language
The pro versions of TranslatePress allow you to add more than one target language to your site, which is what you are limited to in the free version. You can choose from 221 options (https://translatepress.com/docs/addons/multiple-languages/).
Translator account
The add-on Translator Accounts (https://translatepress.com/docs/addons/translator-accounts/) allows other non-administrator users to translate the content of the site.
Browse as User Role
The function Brows As User Role allows you to view your site as a logged in visitor or as a logged out user. With this feature you can see how your site translations appear as certain user roles (https://translatepress.com/docs/addons/browse-as-role/), including content that may be restricted to the same.
Language-based navigation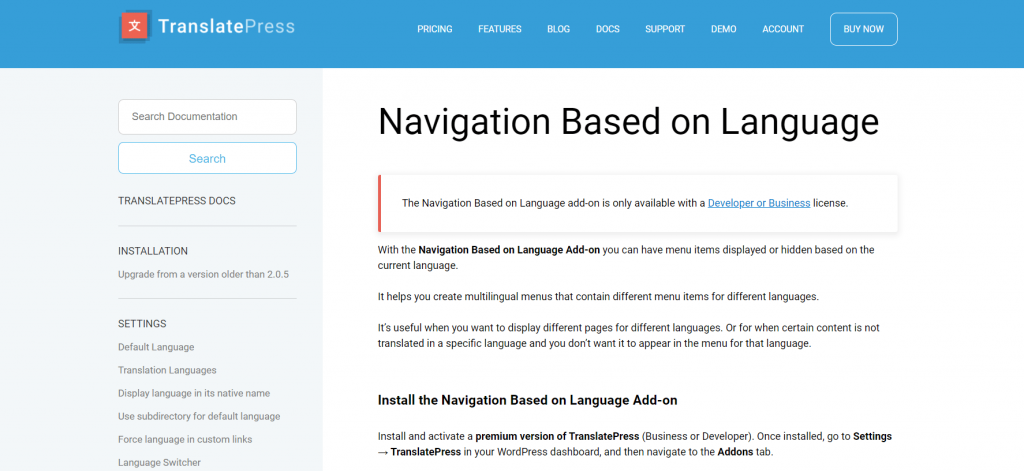 The option Language-based navigation (https://translatepress.com/docs/addons/navigate-based-language/) adds the ability to create different menus for different languages, not just translated versions of the same menu.
Automatic user language detection
This very useful option (https://translatepress.com/docs/addons/automatic-user-language-detection/) detects the language settings of the browser and automatically redirects visitors to their language version.
Troubleshooting
These options help you if TranslatePress is having trouble translating the text on your site due to their markup and other reasons. You can find the details here: https://translatepress.com/docs/troubleshooting/.
Exclude strings 
With this useful feature you can enter strings that you don't want the plugin to attempt to translate. You can exclude text domains, text in HTML nodes, strings in certain paths on your website, and more.
Custom language
You have the ability to create your own language option within TranslatePress, including slugs, flag icon and more.
Benefits of TranslatePress
The main benefits of this useful plugin are:
Free version: You can get started with TranslatePress for free.
Easy to use: TranslatePress is easy to use and lets you translate anything from the frontend, including WooCommerce products, page generator content, forms, and more.
SEO SupportTranslatePress offers SEO support for multilingual sites.
Fully compatible with all themes and plugins.
Support for both manual and automatic translation (via Google Translate and DeepL).
Ability to translate dynamic strings added by WordPress, plugins and themes.
With TranslatePress you can translate your site completely instantly using built-in machine translation and edit any text using the most intuitive visual translation interface.
Integrations
TranslatePress works with any theme or plugin, including plugins for ecommerce like WooCommerce and Page Builder like Elementor.
TranslatePress vs WPML
TranslatePress is a free alternative to WPMLwhich allows you to translate content into one or more new languages using a simple point-and-click visual interface, providing a more intuitive approach and helping you to speed up the translation of your site:
Unlike TranslatePress, WPML only has paid versions. This premium plugin supports over 60 languages (including RTL) and allows you to add custom languages without code.
WPML uses different translation interfaces depending on the type of content you are translating. WPML offers you many settings to control how your site works. For some advanced configurations, these additional settings may be essential. For example, if you want to use completely different domain names for each language, you'll appreciate that WPML offers a built-in setting for this.
However, for most people, and especially casual users, having so many settings can be overwhelming.
Opinions and reviews on TranslatePress
TranslatePress is used by over 180,000 sites. See user reviews here: https://wordpress.org/support/plugin/translatepress-multilingual/reviews/.
Prices of TranslatePress
In addition to the free version, TranslatePress also has premium plans (https://translatepress.com/pricing/):  
Personal at € 79 per year;
Business at € 139 per year; it's the version I use to manage Web Marketing Academy translations.
Developer at € 199 per year.
TranslatePress only accepts online payments. You can pay by credit card and PayPal.
Visit the demo site (https://demo.translatepress.com/) where you can try TranslatePress and all the Pro add-ons without having to install it on your website.