What is Wincher
Wincher (https://www.wincher.com/) is a tool of ranking tracking for the SEO which allows you to monitor your site's positions on SERPs for specific keywords, helps identify errors that prevent a page from ranking high, and offers in-depth keyword suggestions.
Features of Wincher
Wincher offers interesting features, such as keyword research, rank tracker and on-page optimization tools. Let's look at them in detail.
Rank Tracking
When you publish content on your site, it is important to know if and how much it is improving your rankings for certain keywords. This is where rank tracking comes in.
The instrument of rank tracking offered by Wincher (https://www.wincher.com/rank-tracker), similarly to SearchMetrics, SEMrush, SEOZoom, allows you to easily monitor the ranking of your keywords. All you have to do is access the keyword tracking tool and add your keywords.
The tracker checks the location for a given keyword by which your website is displayed on Google. Basically, Wincher checks Google for your location every day, and shows it to you with graphs and other useful features.
No code is added to your website.
Keyword search
Finding the right keywords for your content is critical. Keywords play a crucial role in reaching the right target audience.
To conduct the keyword research, it is essential to have the right set of tools that can provide accurate information.
Wincher, similar to tools such as Long Tail Pro, provides ranking-based keyword suggestions. You can then begin to drill down into the keywords for which you already rank and figure out which ones need to be pushed higher.
On-Page SEO Checker
Lo On-Page SEO Checker tool (https://www.wincher.com/free-tools/on-page-seo-checker) helps you identify problems related to on-page SEO for a specific URL and keyword.
WordPress Plugin
You can also download the plugin WordPress of Wincher (https://wordpress.org/plugins/wincher-rank-tracker/). The free version of Wincher allows you to track up to ten different keywords and one site. Subscribing to Wincher and using Wincher.com allows you to track an unlimited number of keywords and access 5 years of history along with other features such as competitor monitoring, keyword grouping, PDF and CSV reports, and adding additional sites.
A good and effective way to find out where you stand relative to your competitors is to use the tool of Competitor Tracking arranged by Wincher.
You can add a competitor, and Wincher will retrieve the traffic and keywords, thus providing you with the tools to figure out how to outrank them for each keyword and improve your ranking.
In addition, you can also see the average ranking of keywords.
Local rank tracking
If you run a local business, it is critical to monitor your SERP positions in a specific area. Wincher allows you to keep an eye on your performance in over 10,000 locations in 180 countries.
Update data on demand
Wincher updates data every 24 hours. But Google SERPs can change very quickly. Sometimes you may need the most up-to-date ranking position right now--Wincher allows you to update positions manually.
For example, you have just updated a blog post or a particular page on your site during the day and you want to see if it has increased its ranking for a particular keyword.
User permissions
Many SEO tools charge extra for multiple users on your account. Wincher offers the Multiple User feature as part of any plan you choose.
You can create different projects and grant specific permissions with new users. For example, you can assign a new user to a specific task.
Benefits of Wincher
We list what we believe are the main benefits of Wincher.
Ease of use
Accurate Rank Tracker
Quick reports
Daily updates
Ability to track page ranking
Ability to find keywords for which you are already ranked
Integrations
Wincher offers integration with Google Search Console and Google Data Studio (https://www.wincher.com/data-studio).
Wincher opinions and reviews
Wincher is an SEO tool that helps thousands of companies with keyword research and ranking tracking.
You can read the opinions of those who have already used Wincher on the official website and on the G2.com platform (https://www.g2.com/products/wincher/reviews#reviews), where the product has so far scored 4.7 out of 5.
Prices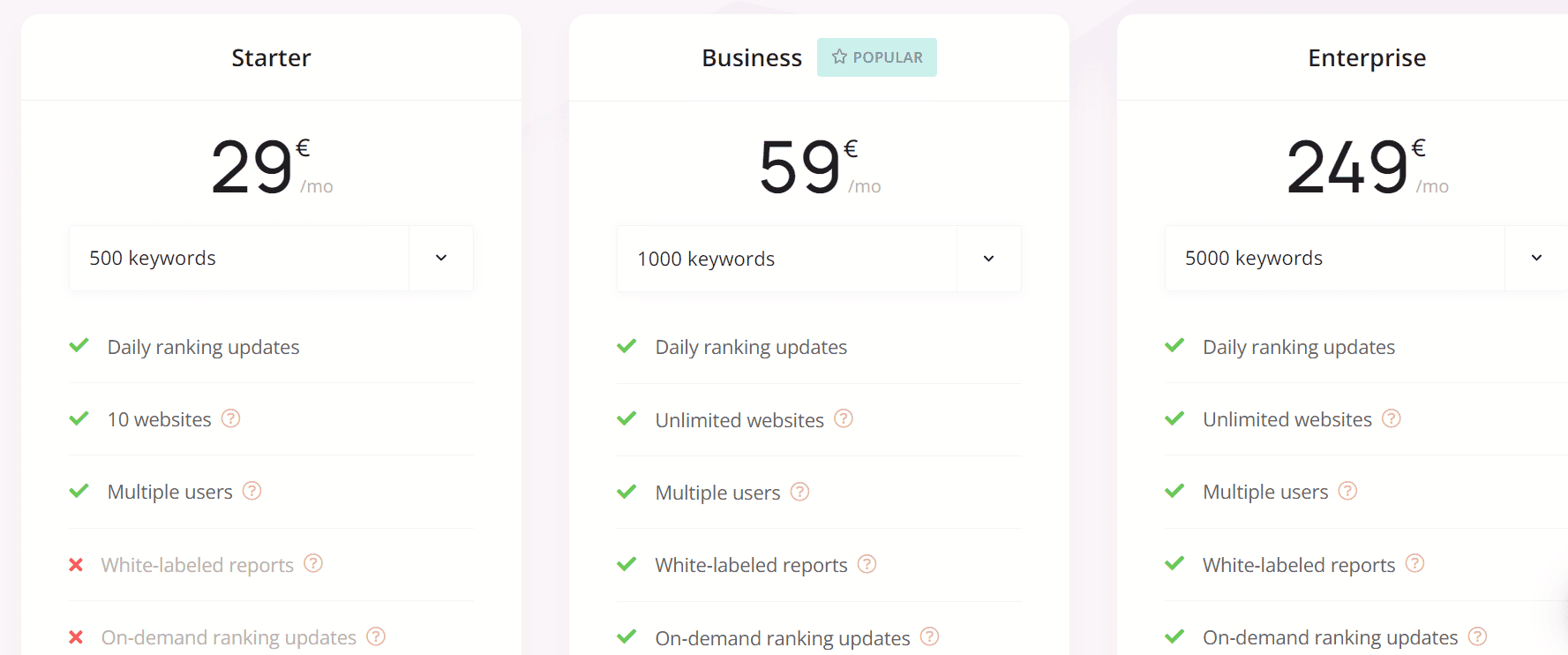 Wincher offers a pricing model based on several plans (https://www.wincher.com/pricing):
Starter, at €29 per month for 500 keywords;
Business, at €59 per month for 1000 keywords;
Enterprise, at €249 per month for 5,000 keywords.
You can choose the option that best suits your needs depending on the number of keywords you wish to monitor and the features you have.
Wincher offers a 14-day free trial and a version via the WordPress plugin. Neither option requires payment details to be entered.